Tutorial
Thinking with Hexagons
Complex situations are not composed of a number of isolated elements that can be treated separately – there are connections, some evident, some hidden, that affect the condition and the role of any factor.  This means that acting on the check list or 'tick box' approach will inevitably lead to unintended consequences as the feedback between factors kicks in. Yet when we are working with a complex situation we often write check lists to gather up the range of factors we need to pay attention to.
An antidote to this which greatly improves our capacity to grasp complexity is hexagon mapping – a tool and technique which helps to tap into our intuitive and visual understanding of connecting patterns in a direct more powerful way rather than analytical methods.
Hexagon Mapping is a foundational method of H3Uni.   It can be used on its own to explore a complex situation, but hexagon clustering is also a core component of many other methods, where it plays a role in transitioning from one stage of a process to another, allowing an effective way to chunk the output in a way appropriate to the task in hand.  In this tutorial we introduce it as a stand-alone method.   When used within other methods you will find you just use the clustering subset of the steps, with others being provided by the method concerned.
As a method in itself hexagon mapping is a way of getting to grips with complex and messy situations quickly and flexibly and to find new patterns of relationships between ideas. It combines comprehensiveness, organization and space for creative insight. It goes way beyond creating a checklist or a brain dump of sticky notes. The result is a hexagon map that becomes a shared tool problem solving, for developing strategy and action planning.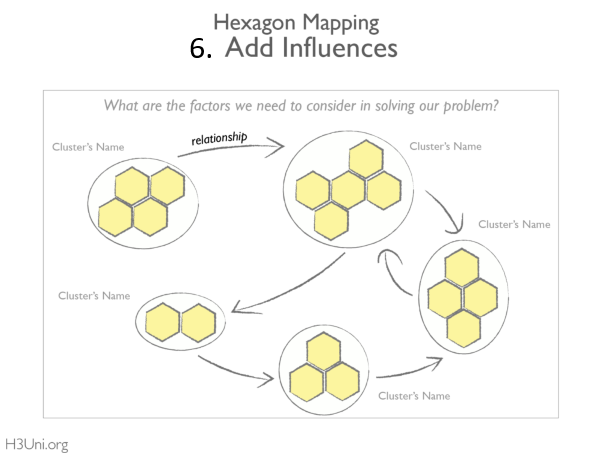 Hexagon thinking and mapping supports three aspects of collective intelligence.  Firstly, it enables a group to create a shared and visible mental model of the issue of concern that is unique to their knowledge and concerns in the present moment; secondly it helps a group to take their area of concern from what starts as a fragmented collection of views to a map which is inclusive and reveals systemic connections that point to a new possible synthesis or integration; third the procedures and tools enable everyone to take part such that all voices are heard.
Hexagon mapping builds on the foundation of visual facilitation, relying on the disciplines of eliciting, gathering, harvesting and synthesizing.  If you are not already familiar with these foundations it is recommended you look at that tutorial first.



Creative Commons Attribution-ShareAlike 4.0 International (CC BY-SA 4.0) license framework.
How to Use this License
CC BY-BY-SA
This license allows reusers to distribute, remix, adapt, and build upon the material in any medium or format, so long as attribution is given to the creator. The license allows for commercial use. If you remix, adapt, or build upon the material, you must license the modified material under identical terms.
Read about Open Access to H3Uni Methods and Materials