Facilitating Transformational Journeys:
7 week course starting Thursday 5th November 2020. Register Interest.

LEARNING FOR A TRANSFORMING WORLD
H3Uni is an educational enterprise dedicated to empowering people to develop the practitioner skills necessary to facilitate regenerative responses to global issues impacting in their local communities and organisations.
H3Uni stands for the idea of a University for the Third Horizon Course starting Thursday 5th November 2020
Facilitating
Transformational Journeys
With Dr Anthony Hodgson, co-originator of the innovative three horizons method
Are you concerned about how we're going to bounce back?
H3uni believes we have to do more and bounce beyond.
What is this course a response to?
In recent weeks there is a word which has come to prominence, especially on the lips of politicians – unprecedented. The meaning is clear – never having happened or existed in the past. There is a convergence of crises happening on a planetary scale that involve all localities and communities with local variations according to circumstances.
The response to this is predominantly to get through the crises and then return to the status quo as soon as possible. In many cases of crisis this striving shows itself as adaptation. Let`s call this Resilience 1 – summed up simply as `bounce back`.
What is unprecedented in the current situation is that this is not sufficient. We have never been here before and effective responses do not exist in the past. However much we may know and learn, we are journeying into the unknown. This requires an additional process to adaptation; it requires transformation. Let`s call this Resilience 2 – summed up simply as `bounce beyond`.
What new kind of training is needed?
The shift from adaptation to transformation in the face of unprecedented challenges requires a complete re-orientation to learning. Journeys into the unknown, although benefiting from the right compilation of what is known, require the skills of navigation where the maps have not been drawn and the landscape itself is constantly changing, requiring map making as you travel.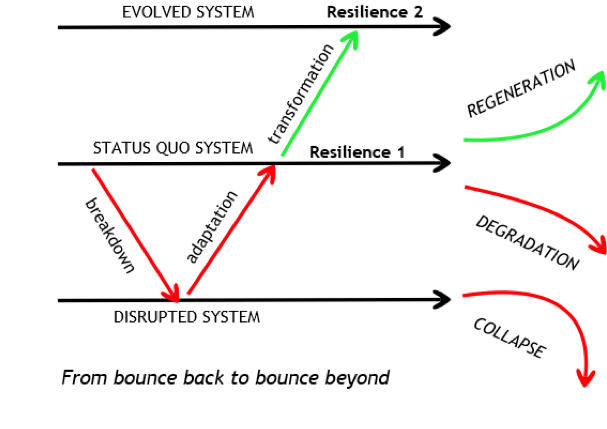 Facilitating Transformative Journeys – the Course
Providing you have the wish to contribute to helping people, groups and communities to go beyond clinging to the status quo and to envision their own contribution to the evolving world of Resilience 2 then this course will introduce you to:
Journeys – some mental, emotional and perceptual skills so as to be more confident in navigating into the unknown by utilising your potential and that of the others you are working with
Transformative – the practice of psychological pattern shift which increases our capacity to think imaginatively into new situations and to escape stuck mindsets and limiting emotions
Facilitation – as well as learning as an individual, structuring these methods in a way that you can share with others, especially on team projects of transformation
Join with us to collaboratively create positive change in ourselves and our communities
H3Uni is a learning network of practioners in many fields of transformative work who are co-creating planetary patterns of living based on cultivating vision, embracing complexity and sharing discovery in action.
Lighthouse Cafes
A relaxed online space to meet and explore significant regenerative ideas and themes through hosted dialogue in a welcoming atmosphere, with people from around the world.
Online Collegium
An online research forum into topics relevant to education for the future earth society – theme talks and discussions by network members and facilitated by Dr Anthony Hodgson and colleagues.
Tools for transformation
Increasingly we know that regeneration of our human planetary life systems is needed. When it comes to how to progress we are short of methods and tools to facilitate collaborative transformation, whether local or global. This where H3Uni comes in.
The Resource Library for Transformative Practice
This a compilation of proven facilitation methods we call our core practices. There are practice guides, tutorials and skill development exercises. These also serve as a basis for our more advanced training delivered both online and face to face.
These are freely available to help you with your own work, under a creative commons licence.

A NEW BOOK!
Explore a third horizon perspective
Systems Thinking for a Turbulent World will help practitioners in any field of change engage more effectively in transformative innovation. Such innovation addresses the paradigm shift needed to meet the diverse unfolding global challenges facing us today, and requiring a revolution in thinking and transformative methods.
Anthony Hodgson is currently a trustee and research director of H3Uni – A University for the Third Horizon, a research fellow at the University of Dundee, director of Decision Integrity Limited and a founding member of the International Futures Forum. He has a PhD in systems science from the University of Hull, Centre for Systems Studies. He has over thirty years of experience as a consultant facilitator in strategy and foresight.
Watch Anthony`s talk on the core message of the book
H3Uni five core practices
H3Uni interactive practices are based in strategic foresight, systems thinking, developmental learning, scenario planning, complexity and 'second order science', which combined, ensure that people are empowered to work together towards common goals easily and effectively: supported by well designed tools and facilitation procedure.
What is the purpose of H3Uni?
Our vision is to contribute to the emergence of a worthwhile future for humans, for life and for the planet based on values of participation, creativity and holistic balance.
H3Uni offers collaborative practices that transform, the way we think and act together in five core areas:
1. Understanding the interconnectedness of humanity and the earth.
2. Ways of seeking collective wisdom in our policies and decision making – individual, group and organisation.
3. Developing future consciousness that can clearly map the present, the desired future and the realities of the transformative innovation to get there.
4. Making it easier for collaboration across functions, disciplines and value differences in social change.
5. Ways to tackle the unavoidable dilemmas of transformative change between the 'old' world and the 'new' with appreciation and respect for all parties.
What are the Three Horizons?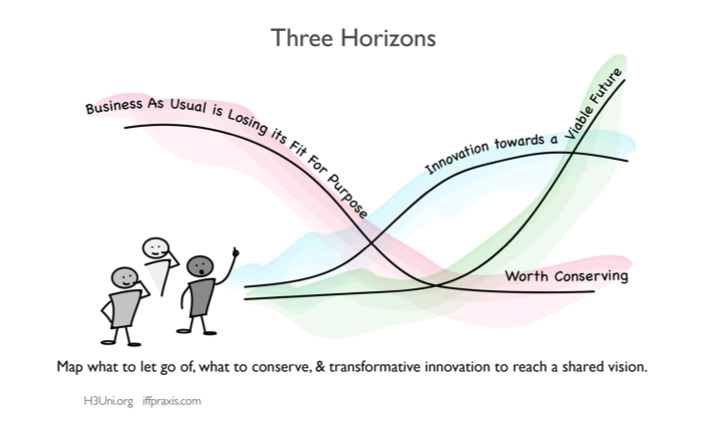 Three Horizons is a simple and intuitive tool for thinking about the future. It helps groups explore systemic patterns to identify which of the dominant patterns are no longer fit for purpose how the emerging trends can shape the future, and what visionary action is needed to collectively move us towards a viable future.
The H3Uni Community
H3Uni was founded by a network of friends and colleagues who reached a common view as to the need for education and learning
to be approached in a radically different way
to match the challenge for a human way of life that is degrading not only that life itself but that of the whole planet.
Towards a university for a third horizon became a common sense of direction. Our evolution is constant voluntary adventure with multiple and often changing roles. This is an overview towards the end of 2019.
The World System Model is a key foundation for H3Uni regenerative learning. Here is used as a game in which students, over the course of several hours, redesign their research to be more alive to the global context and the challenges of transformation.
"We are entering a crucial time in our history. In coming decades we'll come upon one critical junction after another in rapid succession. The choices we make and the paths we choose at each junction will be irreversible. The stakes are as high as they can get."
Thomas Homer-Dixon
"Ultimately, when we talk about sustainability from a whole systems design perspective, what we are trying to sustain is not just the future of the human species but also the pattern of ecologically interdependencies and planetary health upon which the fate of our own and so many other species depends."
Daniel Wahl
"Future generations, if there is a liveable world for them, will look back at the epochal transition we are making to a life-sustaining society. And they may well call this the time of the Great Turning."
Joanna Macey
"The only effective action is that which touches the minds and not the material natures of men."
J.G.Bennett
"New thinking starts with greater insight into the transformation that ushers in a new world in place of the old. But for new thinking to be effective, we should have some idea of what it involves. Just what kind of a process is the birthing of a new world?"
Erwin Laszlo
"Changing the way we think means continually shifting our point of orientation. We must make time to look inward: to be, aware of, and study, the tacit "truth" that we take for granted, the ways we create knowledge and make meaning in our lives, and the aspirations and expectations that govern what we choose from life."
Peter Senge et al