Explore a third horizon perspective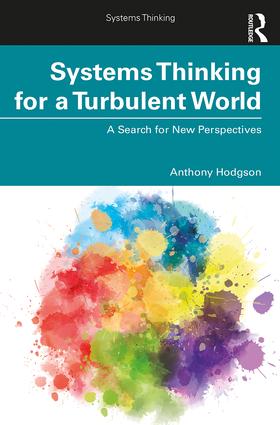 Systems Thinking for a Turbulent World will help practitioners in any field of change engage more effectively in transformative innovation. Such innovation addresses the paradigm shift needed to meet the diverse unfolding global challenges facing us today, and requiring a revolution in thinking and transformative methods.
Anthony Hodgson is currently a trustee and research director of H3Uni – A University for the Third Horizon, a research fellow at the University of Dundee, director of Decision Integrity Limited and a founding member of the International Futures Forum. He has a PhD in systems science from the University of Hull, Centre for Systems Studies. He has over thirty years of experience as a consultant facilitator in strategy and foresight.
Watch Anthony's talk on the core message of the book
New Books Network – interview on Anthony's new book in two parts:
Part 1
Part 2
More on the book

A major challenge to global sustainability and regeneration is the dominant form of thinking that has shaped our world into crisis and conditioned our decisions. This is first horizon thinking.

In his new book, H3Uni founder Anthony Hodgson, has condensed a lifetime of research into the question as to how we need to think differently in a way that questions many deeply ingrained assumptions of the first horizon and opens up new possibilities for a horizon two transitions.

In the book he describes a search for ways of thinking congruent with the emerging third horizon. It is a journey that takes systems thinking to a new level called second-order science. This approach includes the presence of the observer, other ways of knowing than normal science, and serves as a foundation for practices of creative collaboration.

The Journey

Anthony's new book — Systems Thinking for a Turbulent World: A Search for New Perspectives — invites us into becoming reflexive practitioners of the art and science of re-patterning and co-creating an uncertain future through a deeper appreciation of the qualities inherent in the future potential of the present moment.The book offers new ways of embracing uncertainty in a complex world yet nevertheless finding constructive ways to collaborate with others ready to chart our collective path into a future that will surprise us while also taking seriously our co-creative agency to affect that future.

Daniel Wahl, Ph.D. Author: Designing Regenerative Cultures

If you accept the premise that consciousness and its exercise is an essential factor in taking practical action together – which as action researchers we certainly do – then this book offers a rich compendium of approaches to try out for oneself and one's practice.

Anthony has distilled a lifetime of exploration in reconciling love of science with a deep personal search for understanding the future. This has led him to advocate for the key role of the Self as critical for understanding and taking action toward a better future. Anthony helps us see that a better future is also now. We plant seeds, rather than speculate and plan. First person consciousness is critical to overcome our stuckness around new and needed collaborations. Having the chapters follow the outline of the Zen stages of ox herding, is a nice touch.

Hilary Bradbury, Ph.D. Editor in Chief Action Research journal, CEO AR+ Action Research Plus Foundation

I'm looking forward to reading it again—and glad Morin was useful for you.

I'm pretty sure we'll be using this in my program, where a good systems book would find a wonderful home.

And of course your perspective is very fresh—as you know, it's not unusual for systems books to become rather heavy going as well as miss the epistemological dimension.

Alfonso Montuori, Professor of Transformative Inquiry at the California Institute of Integral Studies
Other reading