About H3Uni:
a University for the Third Horizon
Modern Dilemma
Looking around the world today, it is clear that we need to find new ways of responding to the complex interconnected challenges that we are facing including population, food security, the economy, water, energy, disease and species extinction. These challenges are compounded by the need both to maintain essential services that support society, while making well informed rapid changes leading us to a viable one planet future. It is between these two dilemma horns that The University of the Third Horizon – H3Uni – operates.
Transforming to a one-planet paradigm needs creative ways of learning, thinking and doing; an educational approach that supports people, communities, and organizations to co-create a viable future.
H3Uni is an adventure into new ways of co-creating a new pattern of living that takes into account complexity, interconnectedness and emergence. Designed to enable and encourage a global network of people and organisations, with the common goal of co-creating a viable future for all, the curriculum, learning methods and underpinning psychology have these goals in mind.
H3Uni is designed for:
Know-how, rather than just knowledge
Foresight in anticipating and assessing challenges
The capacity to navigate uncertainty and complexity
"

To recognize and understand the problems of the world, we need a reform in thinking.

It is the fundamental question for education."

Edgar Morin, UNESCO, Seven complex lessons in education for the future
Seeing in Three Horizons
In the H3Uni curriculum, learning to see in 3 horizons helps us keep in mind the needed paradigm shift supported by methods and skills for: Resolving horizon dilemmas; Designing resilient systems;  Facilitating cognitive intelligence; Gaming global challenges; Organizing social enterprises; Agile and creative thinking, and; Seeing and being a new future.
Relevant Learning
H3Uni will not concentrate on conventional courses but rather reverse the educational value chain and create a modular on-demand dynamically evolving curriculum. It is specifically designed to anticipate and quickly identify new needs and to adapt and innovate its curriculum.
H3Uni's on demand just-in-time learning modules help students understand how to:
Navigate in complex, uncertain times whilst maintaining the essential services that provide us all with security
Work collectively to transform existing systems so that they will meet our changing collective needs
Think critically and systemically
Evolve our common capacities, tools and frameworks
Gain benefits from diversity (age, values, perspectives, experience, culture, needs)
Identify the systemic risks and opportunities in any situation
 
What is the purpose of H3Uni?
Our vision is to contribute to the emergence of a worthwhile future for humans, for life and for the planet based on values of participation, creativity and holistic balance.
H3Uni offers collaborative practices that transform, the way we think and act together in five core areas:
1. Understanding the interconnectedness of humanity and the earth.
2. Ways of seeking collective wisdom in our policies and decision making – individual, group and organisation.
3. Developing future consciousness that can clearly map the present, the desired future and the realities of the transformative innovation to get there.
4. Making it easier for collaboration across functions, disciplines and value differences in social change.
5. Ways to tackle the unavoidable dilemmas of transformative change between the 'old' world and the 'new' with appreciation and respect for all parties.
What are the Three Horizons?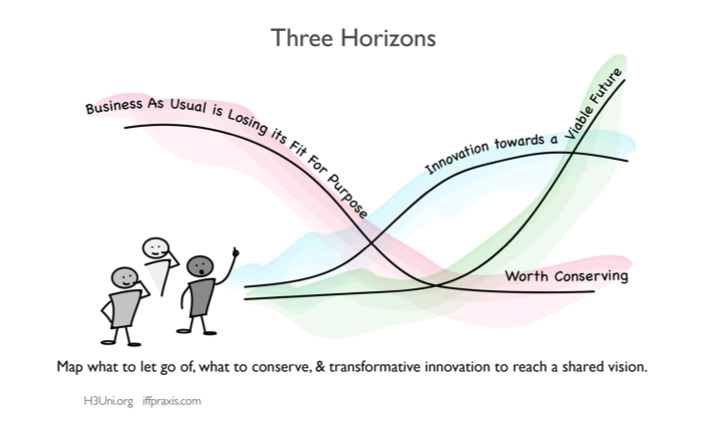 Three Horizons is a simple and intuitive tool for thinking about the future. It helps groups explore systemic patterns to identify which of the dominant patterns are no longer fit for purpose how the emerging trends can shape the future, and what visionary action is needed to collectively move us towards a viable future.
The H3Uni Community
H3Uni was founded by a network of friends and colleagues who reached a common view as to the need for education and learning
to be approached in a radically different way
to match the challenge for a human way of life that is degrading not only that life itself but that of the whole planet.
Towards a university for a third horizon became a common sense of direction. Our evolution is constant voluntary adventure with multiple and often changing roles. This is an overview towards the end of 2019.
The World System Model is a key foundation for H3Uni regenerative learning. Here is used as a game in which students, over the course of several hours, redesign their research to be more alive to the global context and the challenges of transformation.