Practices > Dilemma Resolution
Dilemma:
When there is a polarity or tension between two equally necessary performance parameters which are themselves seemingly incompatible.
i.e. "We need to satisfy shareholders." vs. "We need to invest in future innovation."
"If you are better skilled to reconcile dilemmas, you come better out of them."
Feike Sijbesma @ World Economic Forum 2016
Apply the Dilemma Resolution approach
Understand why both positions are necessary for success
Navigate collectively to find and/both solutions
How to Use this License
CC BY-NC-ND
This license allows anyone to download and share this method as it is shown here with others as long as H3Uni or H3Uni.org is given credit. The methods cannot be changed in any way or used commercially without prior consent.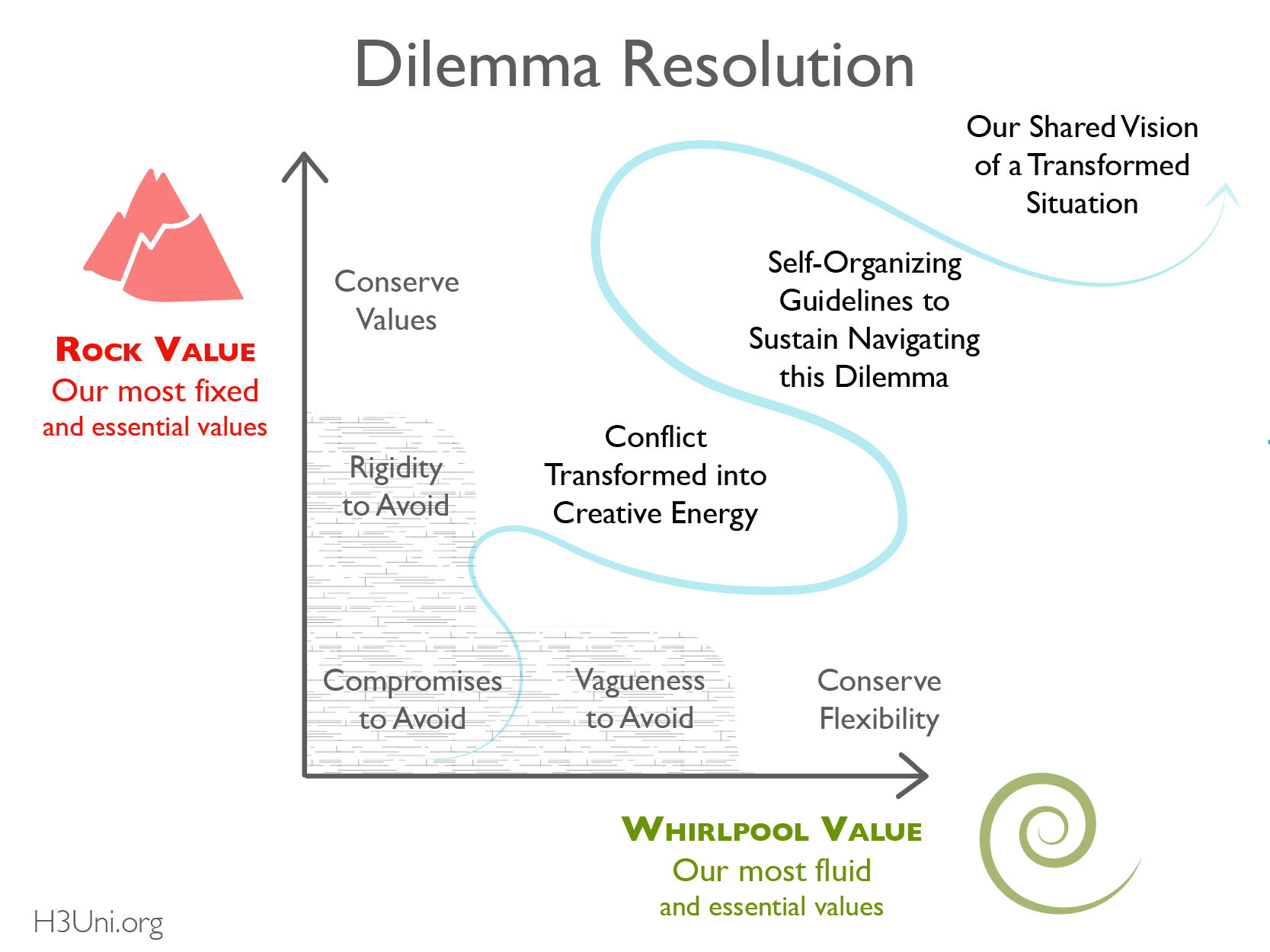 Dilemma Resolution
This process allows actors to identify the value that each opposing perspective brings to the table, enabling the group to move forward and find a viable solution. Symbolized by a rock and a whirlpool, the aim is to navigate through the dilemma so that it can both conserve the essential value embedded in the present system, and incorporate the core value that is central to innovating it.
In a genuine dilemma there is an entanglement between the two values and their associated situations because the dilemma itself is a manifestation of a deeper structure. In fact, the underlying structure is a systemic one in which unseen feedback loops create unexpected consequences:
If the advocates of rock values "win" (that is dominate) then at some point in the future the feedback from the whirlpool realities will catch up and cause defeat.
If advocates of the whirlpool values prevail then sooner or later the rock realities will catch up and cause defeat.
Dilemma resolution requires a dynamic and non-linear process that emphasises 'both/and' rather than 'either/or' by a process we call the dilemma dance.
Visit our resource library for introductions to powerful thinking techniques, tutorials on H3Uni methods, and facilitation guides to supplement courses.
Would you like to take a course? We will let you know when the next courses become available.
Sign up for our newsletter to receive occasional updates & course information.