H3Uni & International Futures Forum
H3Uni arose from a confluence of several developments over many years. One of the most significant has been the intensive involvement of Anthony Hodgson, one of H3Uni's founding members, who contributed ideas and methods – some of which were further developed under the umbrella of International Futures Forum (IFF).
International Futures Forum
IFF was established in 2001 to explore how to take more effective action in a complex world we do not understand and cannot control. IFF's early work included meetings, learning journeys, research projects and investigative assignments in a range of areas relating to complex challenges faced by government, business and communities.
This work distilled three essential orientations for effective action:
taking the broadest possible view of context – always thinking systemically, combining holism with focus;
taking a long-term view of patterns shifting over time, taking both the past and the future into account;
paying particular attention to the human system – in every situation.
Transformative Innovation
It also became apparent that effective action must involve what IFF has come to call 'transformative innovation'. Sustaining innovation fixes what's failing. Disruptive innovation shakes things up. Transformative innovation is designed to deliver a fundamental shift towards new patterns of viability in tune with our aspirations for the future.
There is a relationship between this concept and Three Horizons. Anyone can disrupt a system. But disrupting it with a purpose – transformative innovation – is only possible if you have a third horizon in view.
In recent years IFF has focussed on growing capacity for transformative innovation across the board, supporting practitioners in the field, and acting as a new kind of incubator to nurture specific innovations – particularly in health and social care and in education. H3Uni can be seen as one of those seeds, continuing to grow with IFF assistance. IFF has established a Practice Centre to support transformative innovation, including a web resource to make accessible the central tools, frameworks, methods and approaches it has used over the years. Some of these are shared with H3Uni [under IFF's creative commons license] and are available in H3Uni's Resource Library.
Focused on learning and research, H3Uni works in parallel and in partnership with IFF to develop understanding of transformative innovation and make available methods and skills better suited to navigating in a complex and constantly changing world than traditional management or education.
 "It involves directing creative effort towards growing a future viable system rather than simply making the best of the one we have, building organisation and infrastructure for the new system as it grows, and drawing on an innate human capacity to act in tune with and realise our deeper aspirations in a complex world.

This last, it turns out, is the key to effective action, not just for policy or organisations but also at a personal level."

Graham Leicester, Director of the International Futures Forum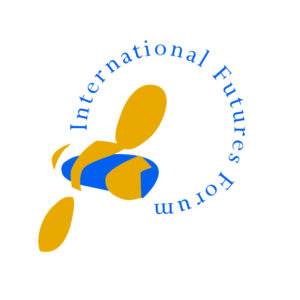 Further information about IFF can be found at internationalfuturesforum.com or in the IFF Practice Centre at iffpraxis.com.