Exercise
Reflection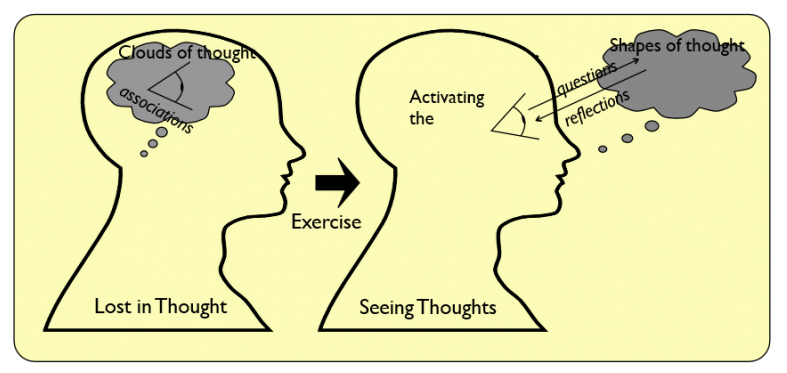 Reflective thinking
Select a firm seat in a quiet place. Sit upright but relaxed. Use a slight rocking forward and back motion to find the best balance point. Keep your head level and your eyes looking ahead but not focused on anything in particular.
 Become aware of your breathing by placing attention on your nostrils or under your nose. Let the breathing find its own rhythm.
Close your eyes. We are often 'lost in thought' or images that we are not paying attention to. They may be structured or random but we are not really taking notice of them. This is the figure on the left above.
Start to scrutinize your thoughts and increase a sense of separation between you and the stream of thoughts. Affirm "I am not my thinking" arousing your 'mind's eye'.

 

Steady your inner gaze and see the shapes and possible meanings of your thoughts. Ask yourself questions like "What is going on here!", "What does it mean?".
Stay quietly aware of what is coming back to you in the form of meaning, insight or new angles or ideas. Try not to get excited if insights come or disappointed if they do not. Sustain for a minute or two if you can.
Reconnect with your breathing. Formulate to yourself what has newly become evident to you, what has changed in your confidence in the thoughts you were having. If nothing appears to have changed, you may find that some new current of thought emerges later which will be fresher.



Creative Commons Attribution-ShareAlike 4.0 International (CC BY-SA 4.0) license framework.
How to Use this License
CC BY-BY-SA
This license allows reusers to distribute, remix, adapt, and build upon the material in any medium or format, so long as attribution is given to the creator. The license allows for commercial use. If you remix, adapt, or build upon the material, you must license the modified material under identical terms.
Read about Open Access to H3Uni Methods and Materials