The Art of Creative Collaboration
Beyond the basic facilitation of meetings to capacities for reperception of time, navigating the unknown, and collaborative improvisation
New course 9th February – April 27th 2023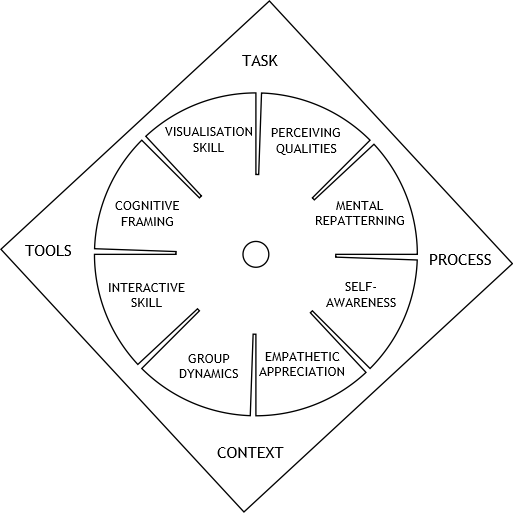 The course will identify the major shifts in the demands for creative collaborative thinking that the Anthropocene era has let loose. It will make the case that to anticipate the future in a turbulent environment with multiple synchronous challenges, we need an integrative approach. The approach must combine mental skills, self-awareness, powerful concepts, group psychology, empathetic listening, perception of qualitative complexity and visualisation.
Part 1 – The Cooperative Imperative
Session 1 – Beyond problem solving (9th February)
Session 2 – Collaborative Creativity (16th February – guest tutor Professor Alfonso Montuori, CIIS )
Session 3 – The Eightfold Dexterity (23rd February)
Part 2 – The Eight Capabilities to Develop
Session 4 – Mental Skills – Reperceiving and Repatterning (2nd March)
Session 5 – Interpersonal Skills – Dialogue and Dynamics (9th March)
Session 6 – Operational Skills – Framing and Visualizing (16th March)
Session 7 – Emotional Skills – Empathy and Self-awareness (17th March)
Part 3 – Designing and Learning
Session 8 – The Fourfold Practice (23rd March – practice projects over 4 weeks )
Session 9 – Learning Review (27th April)
Expression of Interest
If you find this course of interest sign up for updates on new dates.