Purpose
Visual facilitation is the art of helping groups of people and teams to achieve higher than usual performance in their shared thinking and decision-making.
The facilitator acts as a catalyst who adds value through activating and stimulating the process without taking decision power from the group. This includes flexibly adapting techniques of visual mapping to support shared meaning, shared mental modelling and mutual creativity.
Visual Facilitation is about…
…using physical media to aid cognition and communication. By using physical media we get three advantages:
information is embodied, so stuff can be positioned and moved
we can work with cognitive structures that are not confined by the grammar of language
we can map and explore multiple relationships.
This Enables…
Physical manipulation expressing mental manipulation and shaping for understanding
Organising left-brain information with right brain pattern recognition and creation
Sharing thinking in a field of feeling
Co-creation of new thoughts and insights
Combining shapes with words can be much more powerful than using just words or shapes alone.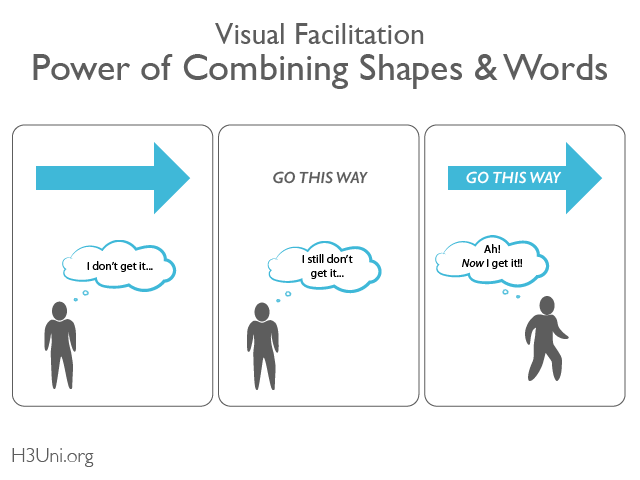 In h3uni visual facilitation we make frequent use of combining words with shapes. We call this an idon which is condensed from idea in an icon.
One commonly used idon is the hexagon. This is useful because it symbolises that, instead of being isolated, any idea can be connected with up to six others by simply placing them next to each other. The idea has been moved from being univalent on its own (like in a check list)to being up to six valent (valency is a term from chemistry describing how many other atoms an atom can connect with to make a molecule).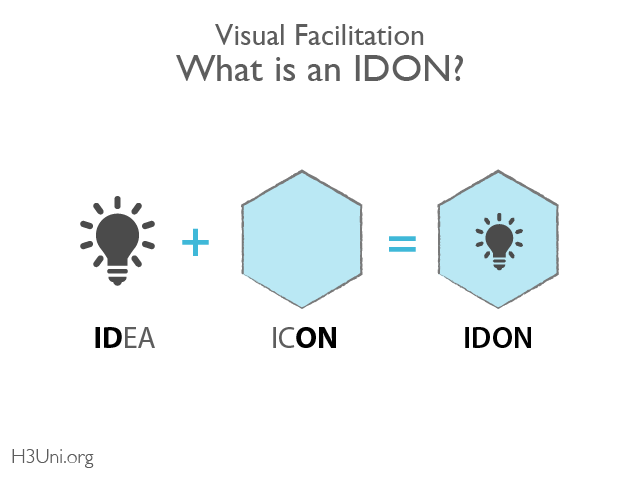 Idonic visual facilitation requires a combination of skills that have to be developed and used together. We all have these skills in some form or another but we need to practice using them in an integrated way. The deeper the skills and their integration the more effective the facilitator. The following system is a Skill Circle for visual facilitation with idons. Each of the eight skills is described below with some hints and tips about how to go about it.