Purpose
Hexagon thinking goes way beyond creating a checklist because it enables you find relationships between ideas very quickly and flexibly.  The result is a hexagon map that can bring clarity to a situation.
When to Use?
The steps below are for individual applciation to your own thinking. It also makes it easy to work with ideas contributed from different participants (read Facilitation Guide for Hexagons).
The hexagon clustering process is appropriate for taking around 20-30 stickies and combining them into clusters of around 3-7. This will be covered in three stages:
Eliciting Ideas on Hexagons (Steps 1 & 2)
Clustering (Steps 3 & 4)
Method A – Conversational
Method B – Silent
Creating an Influence Diagram  (Steps 5 & 6)
Set Up
Using all three processes as one single process is called hexagon mapping but each of the steps can be used independently in different contexts.
Large visual work area (6′ x 4′), on a wall or a table, to place hexagons and draw connections
Markers (dry erase for white board, felt tip for hexagons)
Sticky hexagons (50-70) (or magnetic dry-wipe hexagons if the whiteboard is steel-backed)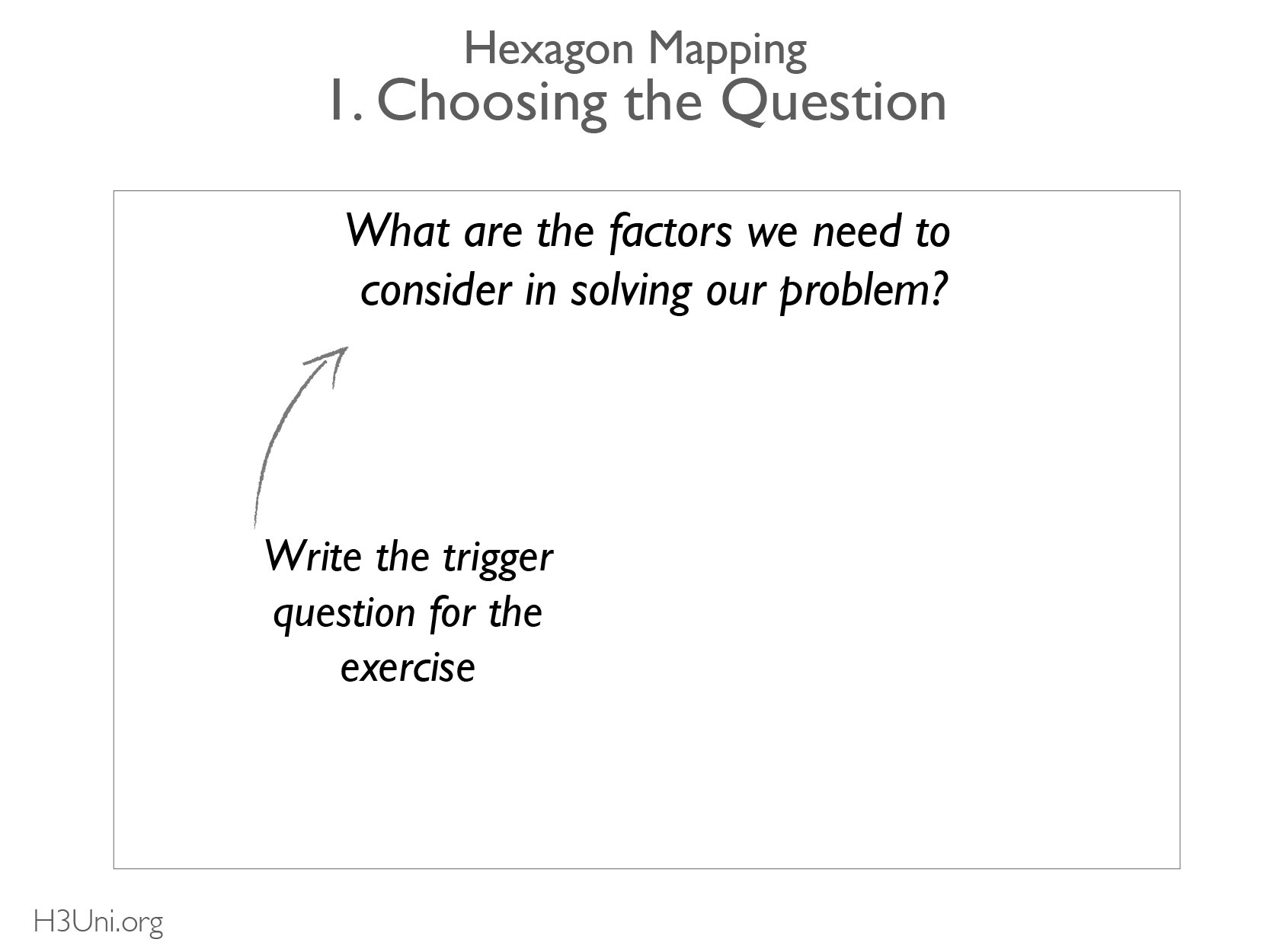 Step 1: Choosing the Question
Write the trigger question for the exercise at the top of your work space. An example question is "What are the factors we need to consider in solving our problem?"
Be clear on the topic you are going to think about.
Make the question open ended.
Write it clearly at the top of your working area.
Step 2: Collect Ideas
Write down your ideas in response to the question.
Put them on moveable sticky hexagons.
Gather 15 to 25 from your flow of thinking.
Arrange them around the periphery of your working area.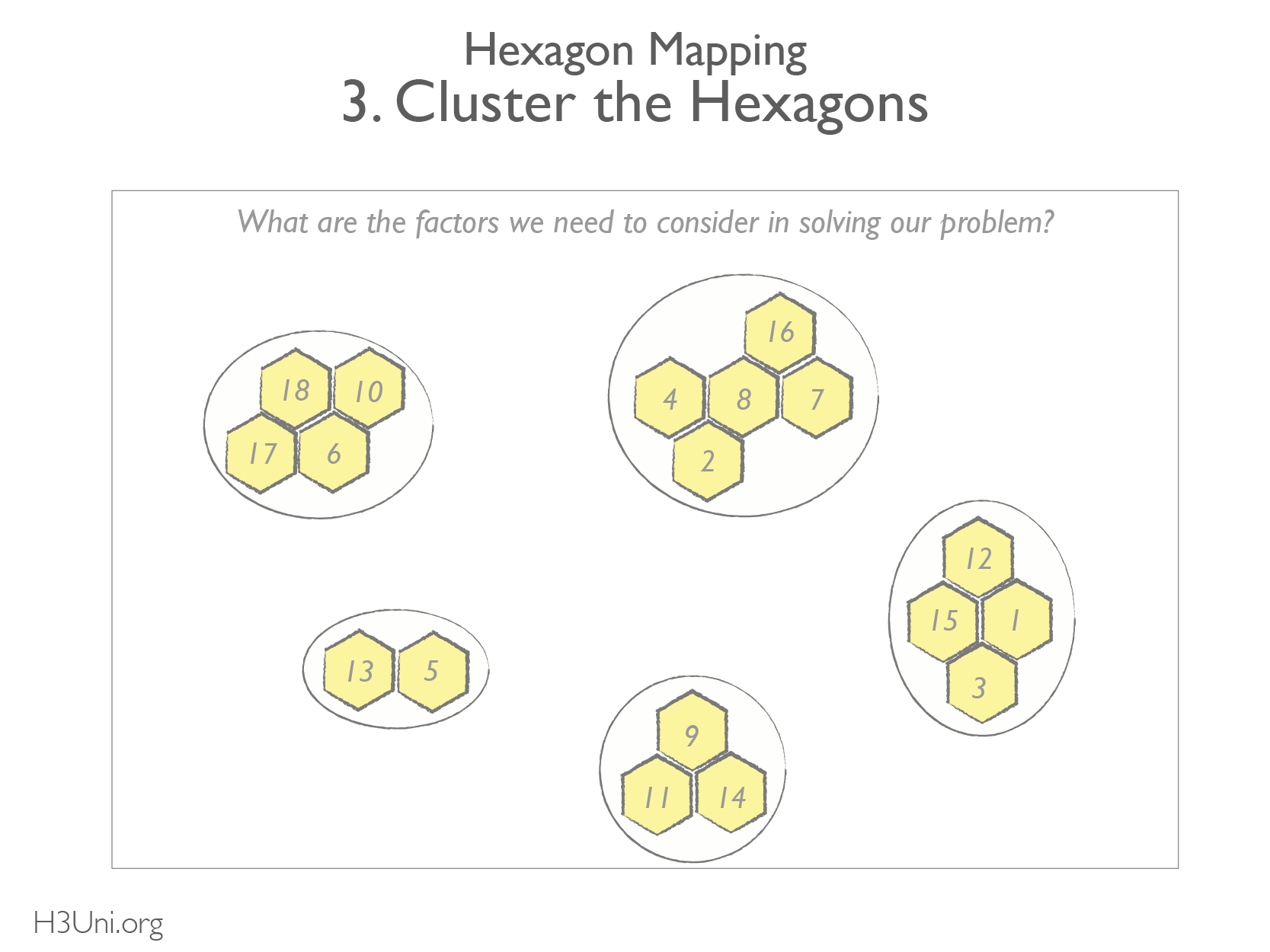 Step 3: Cluster the Hexagons
Keeping the question in mind, experiment with combining hexagons to form clusters.
Look for interesting combinations (clustering is not the same as classifying).
Avoid clusters of more than 6 hexagons (if they clump together look for the weakest link and separate them into two).
Try out different patterns to get the most satisfying sense of structure or system.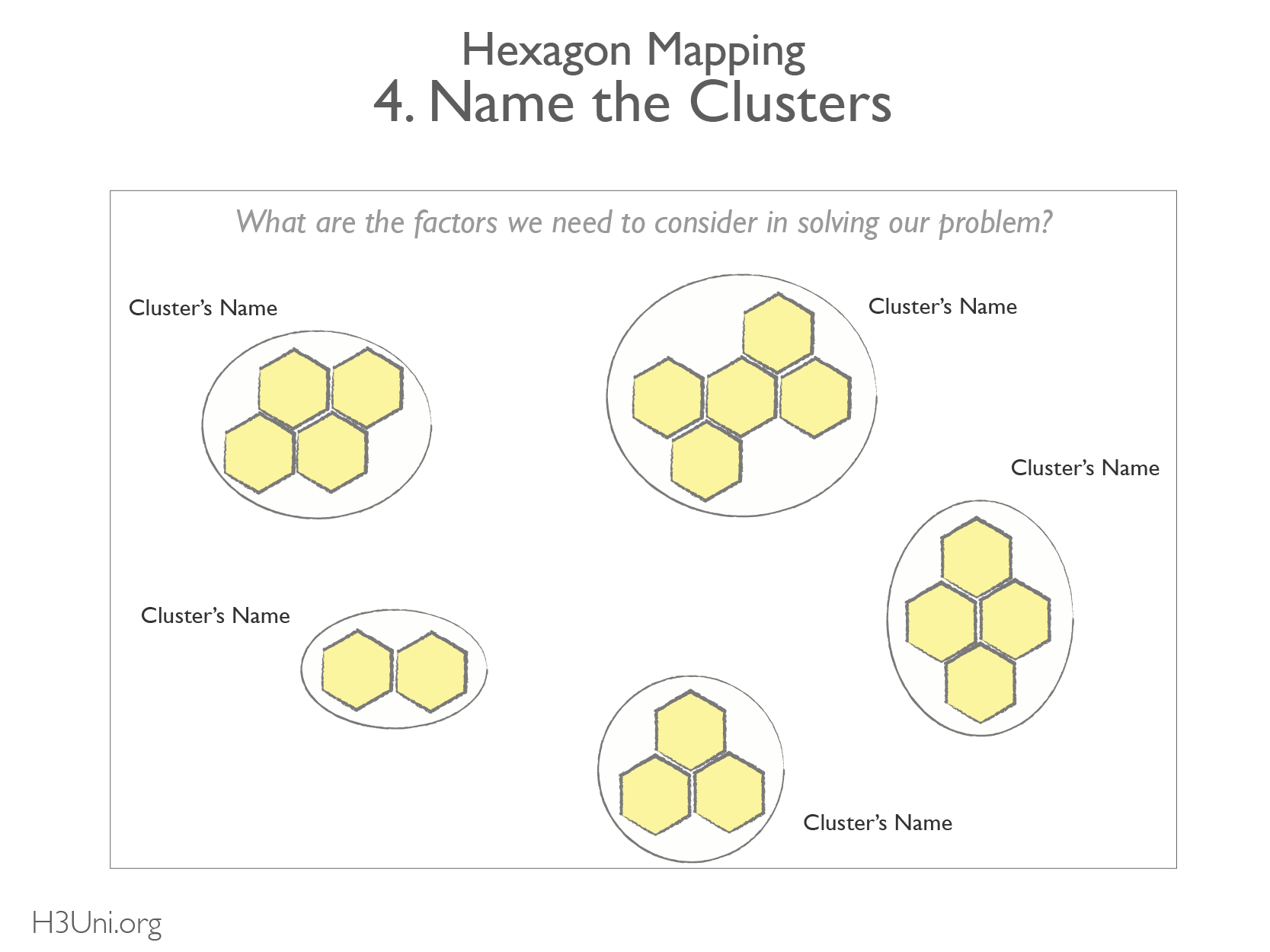 Step 4: Name the Clusters
Try telling yourself a story that describes which of these hexagons form a coherent cluster.
Experiment with possible titles that summarise the meaning of the cluster until you get the best one.
Avoid one-word titles but don't have more than five words (think of it as the chapter title of a book).
Write your best title adjoining the cluster.
Step 5: Add Influences
Review all of the clusters scanning for possible relationships between them.
Identify the relationships you feel are most important with lines.
Write on each line a word or phrase that captures what that relationship does or what it means.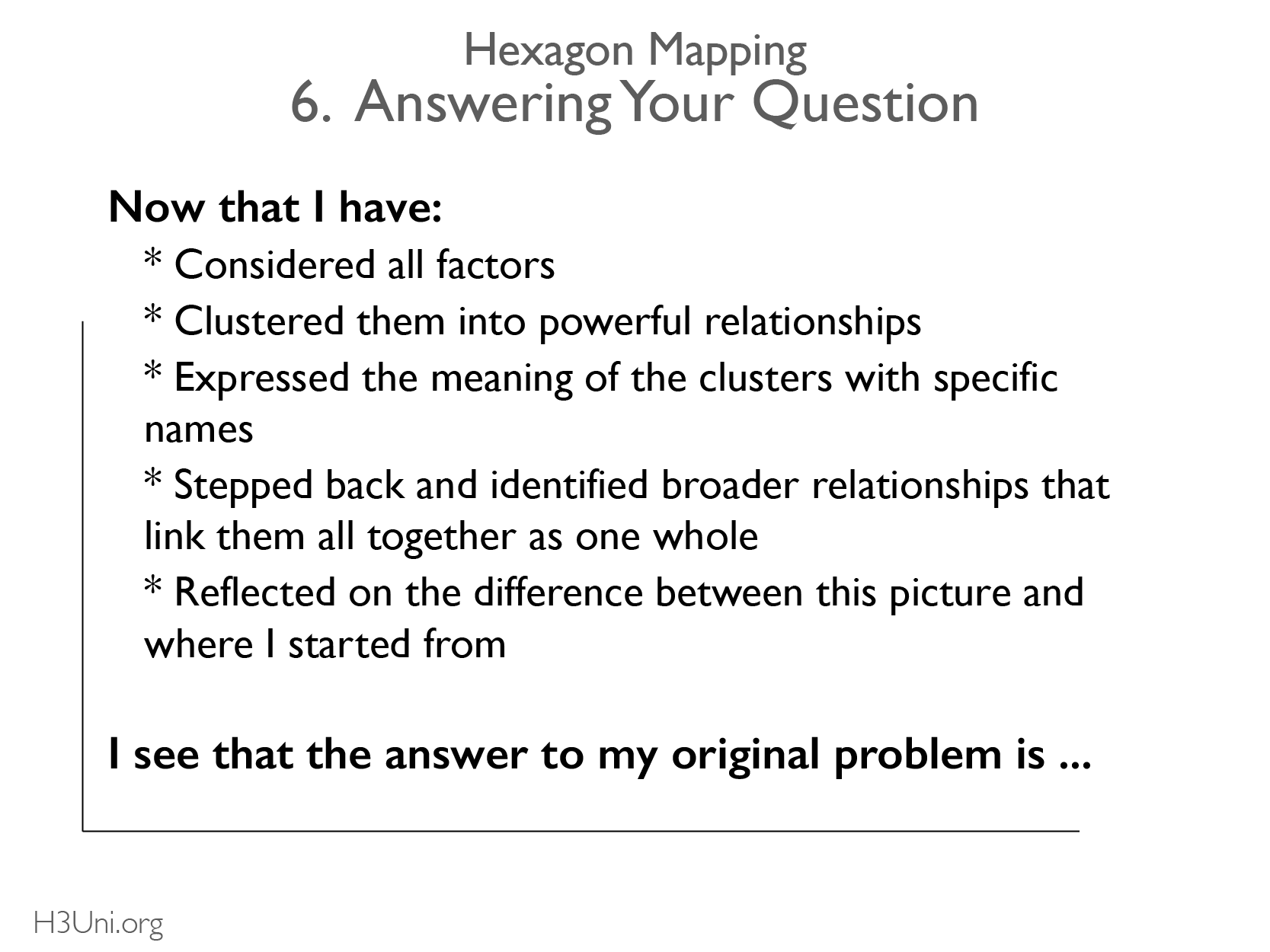 Step 6: Answer Your Question
Read and think about your original question at the top of the space.
Read through the hexagon map you have created getting a feel for the whole as well as the detail.
Taking that picture into account write down your best thoughts that either answer your question or give you a whole new perspective on the problem even if the answer has not yet emerged.
"Now that I have:
Considered all factors
Clustered them into powerful relationships
Expressed the meaning of the clusters with specific names
Stepped back and identifies broader relationships that link them all together as one whole
Reflected on the difference between this picture and where I started from  
…I see that the answer to my original problem is…"
Tips
Materials
Don't cramp the exercise with too little whiteboard and insufficient hexagons
Do lay out the room so everyone can see and access the board
Process
After laying out your initial ideas, ask yourself if there are any ideas that are significantly different from what has come out so far
Thinking
Conceptualising issues can be very hard part of strategic thinking especially where facing unknown of complex areas where there is nothing much from history to go on.
How to Use this License
CC BY-NC-ND
This license allows anyone to download and share this method as it is shown here with others as long as H3Uni or H3Uni.org is given credit. The methods cannot be changed in any way or used commercially without prior consent.