Practices > IFF World Game
A Game? Yes.
It's an interactive role playing game that combines foresight methods, scenario planning, creativity, & systems thinking to uncover risks hidden in uncertainty and the opportunities waiting to unfold.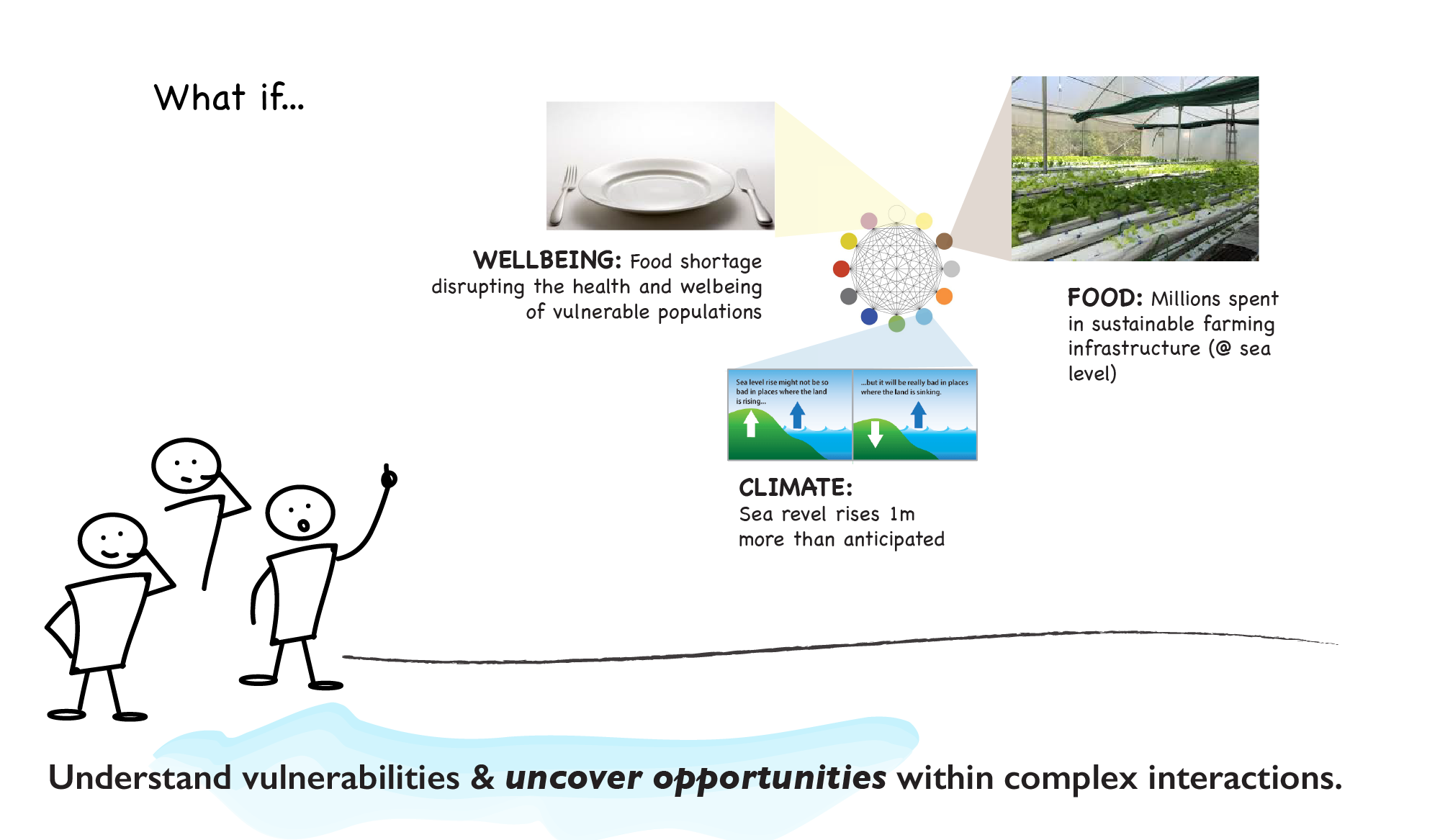 Enhance your problem-solving skills and abilities
Manage your projects understanding complexity & interconnectedness
Generate fresh insights & strategies for change
Understand weaknesses in the system & areas in need of innovation Learn how to see your projects through a triple bottom line perspective (economic, social and environmental)
Build your capacity to work & think across sectors
How does it work?
Each player embodies one of the 12 perspectives (nodes).
Through a series of 'Acts', players form triads of nodes to play out 'negative' & 'positive' scenarios.
The worst-case scenario of synchronistic failure enables groups to discover the weaknesses in the system.
Building from learned insights; groups then build scenarios that address the risks & weaknesses identified in the previous act.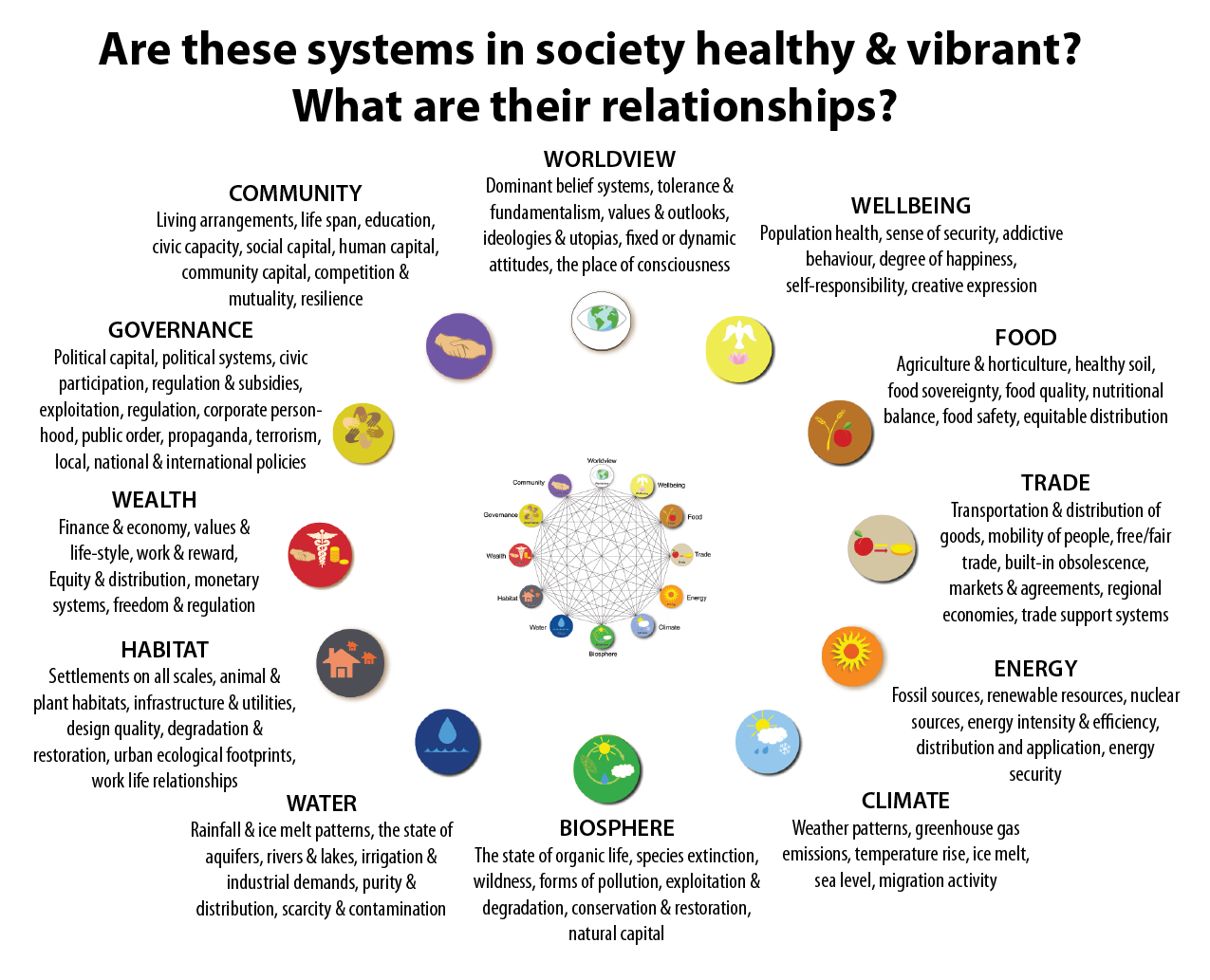 The World Systems Model for Resilient Communities
The World System Model is a clear and memorable way of looking at the challenge of the global problematique in a way that keeps it together in our minds, helps us talk to others about it, and helps focus us on what really matters in generating positive ideas for the future in any local situation.
The circular diagram, is the main icon for the World System Model. It explores the twelve key issues and positions them as the nodes of sustainable living. Each node is described – and some of the main trends summarised – in terms of recent research. In practice, the 66 points of connection between the 12 nodes are also an important part of this model.
It is essentially a mental model for representing in our minds what we need to pay attention to. Through focusing on the key factors in planetary viability and their dynamic interconnections in a living system, it creates a powerful framework for learning that allows groups to engage with the greater complexity of our global predicament. We can then seek for solutions that are less likely to overlook critical connections, and less likely to generate the unintended consequences of so many of our current initiatives.
IFF World Game
This short video illustrates the game, as played for UNESCO-IHE in The Netherlands looking at water and the interconnected impacts in Delta Cities.
What kind of trouble is our species and our planet in? What's likely to happen next? How can we think creatively about and understand the interconnected problems (climate, health, energy, governance, economy, etc.) that we face without getting overwhelmed by their complexity and uncertainty? How can we get ready for whatever is coming next? What can we do practically, at local, national and international level, in business and in the community? What sort of help does resilience offer? How can we design resilience? What happens when we do? As we pass the 7 billion mark, we are currently using the resources of about 1½ Earths to support our collective lifestyle. But we only have one Earth. How can we design and vision one-planet living?
Whether you help to run a country, a corporation, an NGO, a public service, a city, a school or a family… these are difficult questions. Particularly difficult when we can't even agree, for example, whether the climate is changing, whether we should build more nuclear power stations or close the ones we've got, and whether the free market offers the best hope or no hope at all for feeding and watering a population of 10 billion.
Working closely with the internationally-renowned International Futures Forum (IFF), futurist Tony Hodgson has developed, tried, tested and fine-tuned a model (The World System Model) and a practical application (The IFF World Game) that have already helped many different groups to ask these questions and generate their own answers.This book describes and explains The World System Model (right). The model offers the clearest way yet of examining and understanding the interconnected problems we face… and of formulating creative and transformative ways of approaching those problems
Understanding Glasgow sets out to describe the city and its people. It is based on a variation of the World Systems Model for Resilient Communities. Its aim is to create an accessible resource that will inform a wide audience about issues of importance to Glasgow's population (e.g. health, poverty, education, environment, etc) and that will illustrate trends, make comparisons both within the city and with other cities, allow progress to be monitored and encourage discussion and engagement about the future of Glasgow.
Ten years of resources created in Understanding Glasgow can be found here.
How to Use this License
CC BY-NC-ND
This license allows anyone to download and use this method as it is written here and related images provided attribution to both the International Futures Forum (www.iffpraxis.com) and H3Uni (H3Uni.org) are given credit. The methods cannot be changed in any way or used commercially, unless prior permission is granted.
We would love to know how it is being used, please contact us [backoffice(at)h3uni(dot)org] with any questions or simply to let us know how it is being applied in your situation!
Visit our resource library for introductions to powerful thinking techniques, tutorials on H3Uni methods, and facilitation guides to supplement courses.
Would you like to take a course? We will let you know when the next courses become available.
Sign up for our newsletter to receive occasional updates & course information.