Practices > Three Horizons
Three Horizons is a simple and intuitive tool for thinking about the future. It helps groups explore systemic patterns to identify which of the dominant patterns are no longer fit for purpose, how the emerging trends can shape the future, and what visionary action is needed to collectively move us towards a viable future.
The future can be perceived through three lenses:
Horizon 1: Continue Business as Usual
Horizon 3: Vision of a Viable Future
Horizon 2: Innovation towards the Vision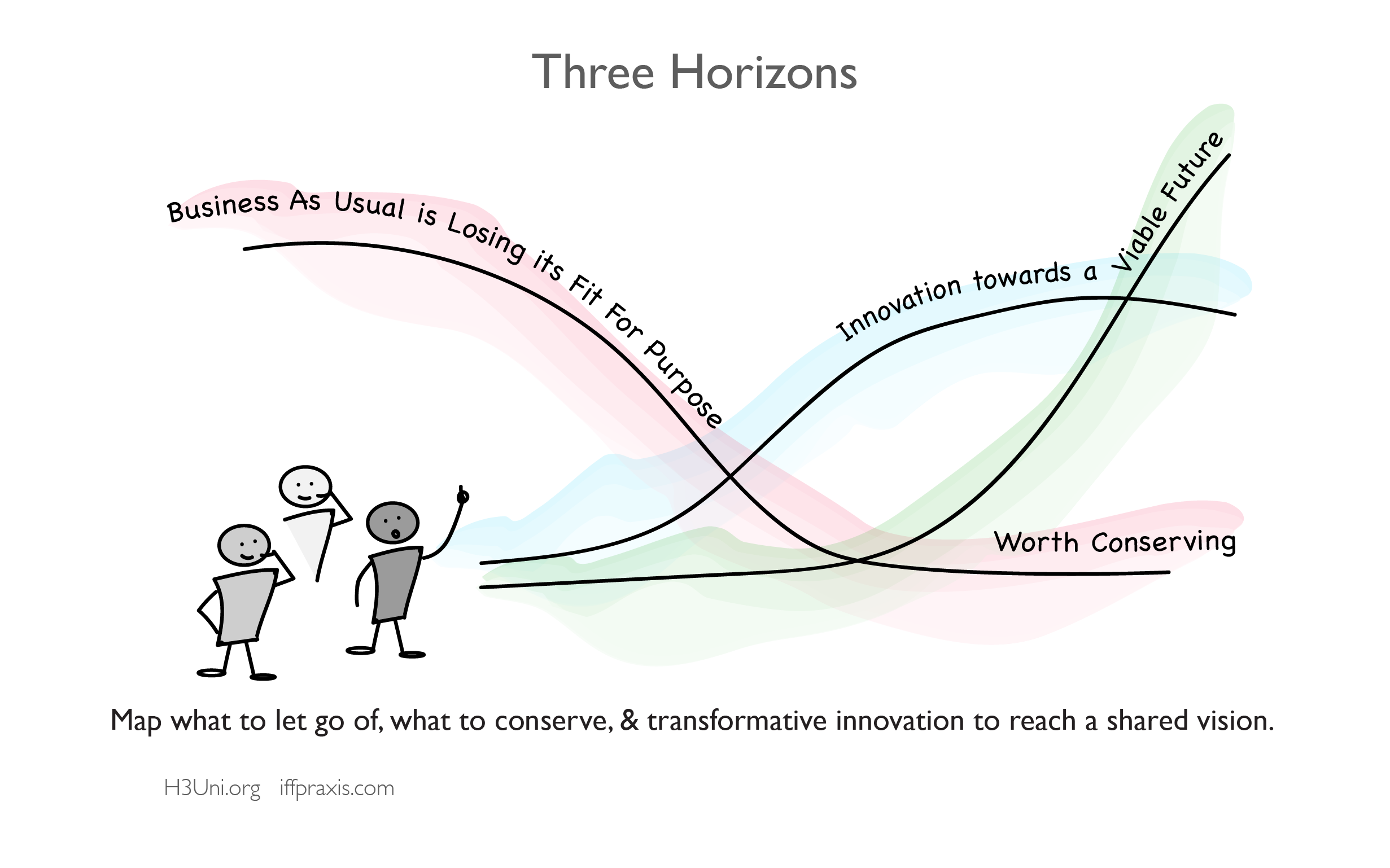 The way in which we view the future impacts how we set our priorities and which decisions we make today.
Every person will have their own unique mix of orientation toward the horizon perspectives. If they remain unsurfaced, these orientations can unconsciously impact the quality of decisions as well as team cohesion. 
Learning to work with the Three Horizons enables teams to develop a shared language, freeing up creativity to collectively navigate toward a viable future.
Gather diverse stakeholders
Host conversations about the future using the Three Horizons methodology
Map out the key points as a whole group
Use the map to identify where and how to invest resources
Build upon understanding by revisiting and updating the map over time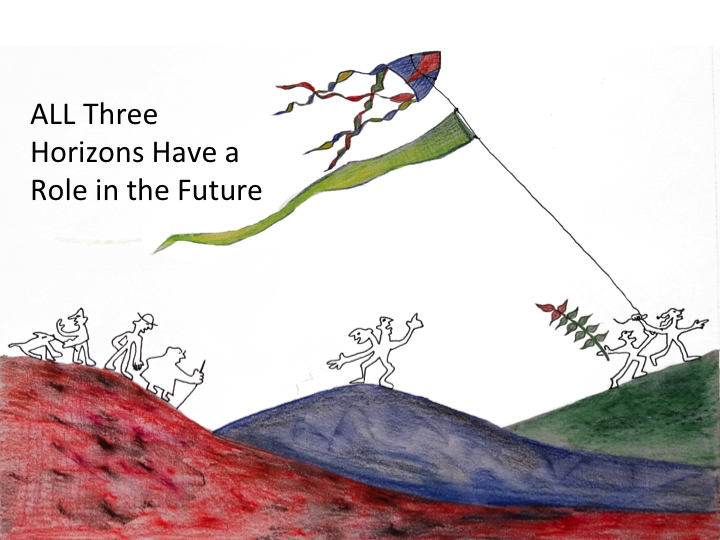 The three horizons are about much, much more than simply stretching our thinking to embrace the short, medium and long term.  They offer a co-ordinated way of managing innovation, a way of creating transformational change that has a chance of succeeding, a way of dealing with uncertainty and a way of seeing the future in the present.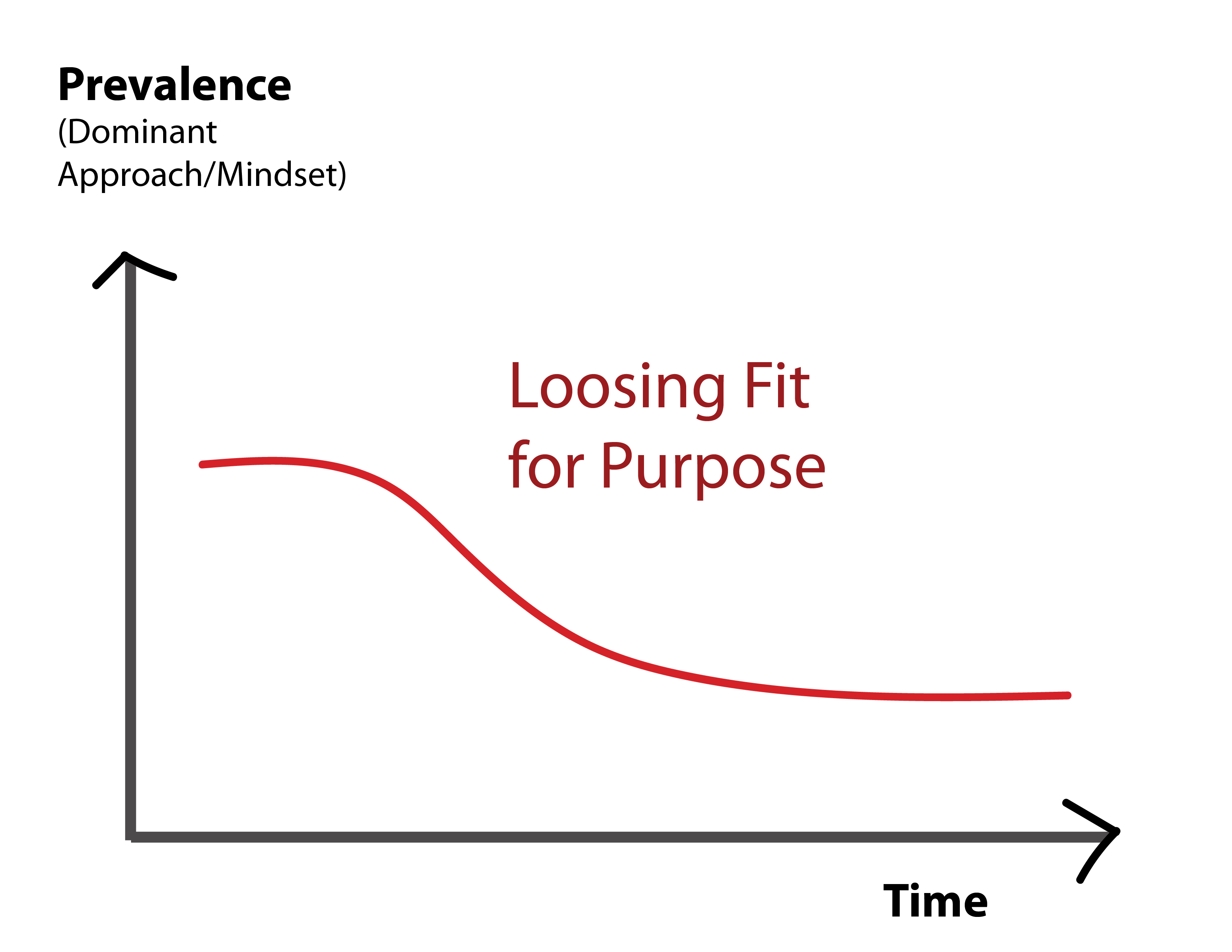 CHALLENGE
First Horizon (H1): Business As Usual
Business as usual reaches its peak
Starts to decline when the world changes
Looses its 'fit for purpose'
Self-reinforcing behavior that no longer achieves desired results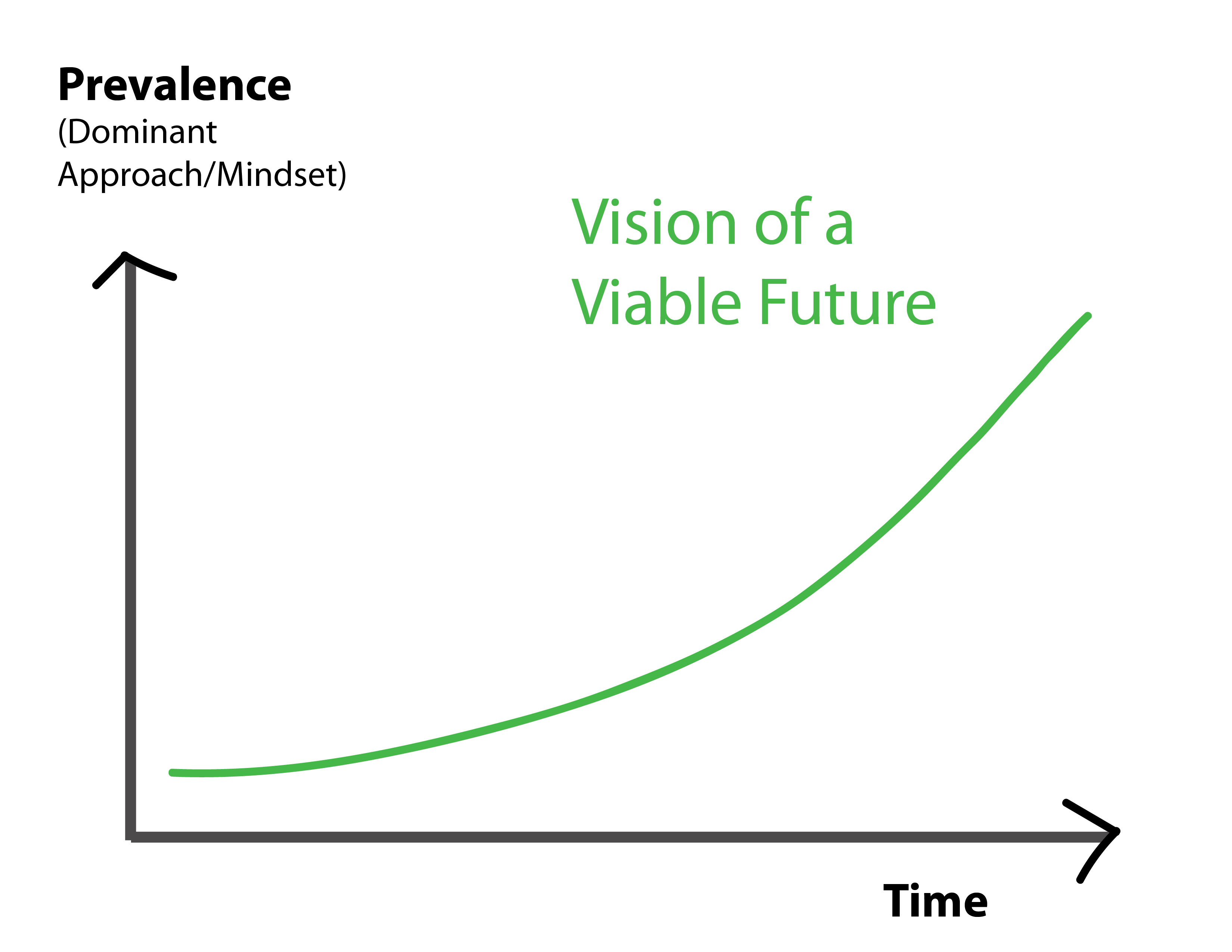 At the same time…
Horizon 3 (H3): Vision
The long-term successor to 'business as usual' grows
Better fit to the changing world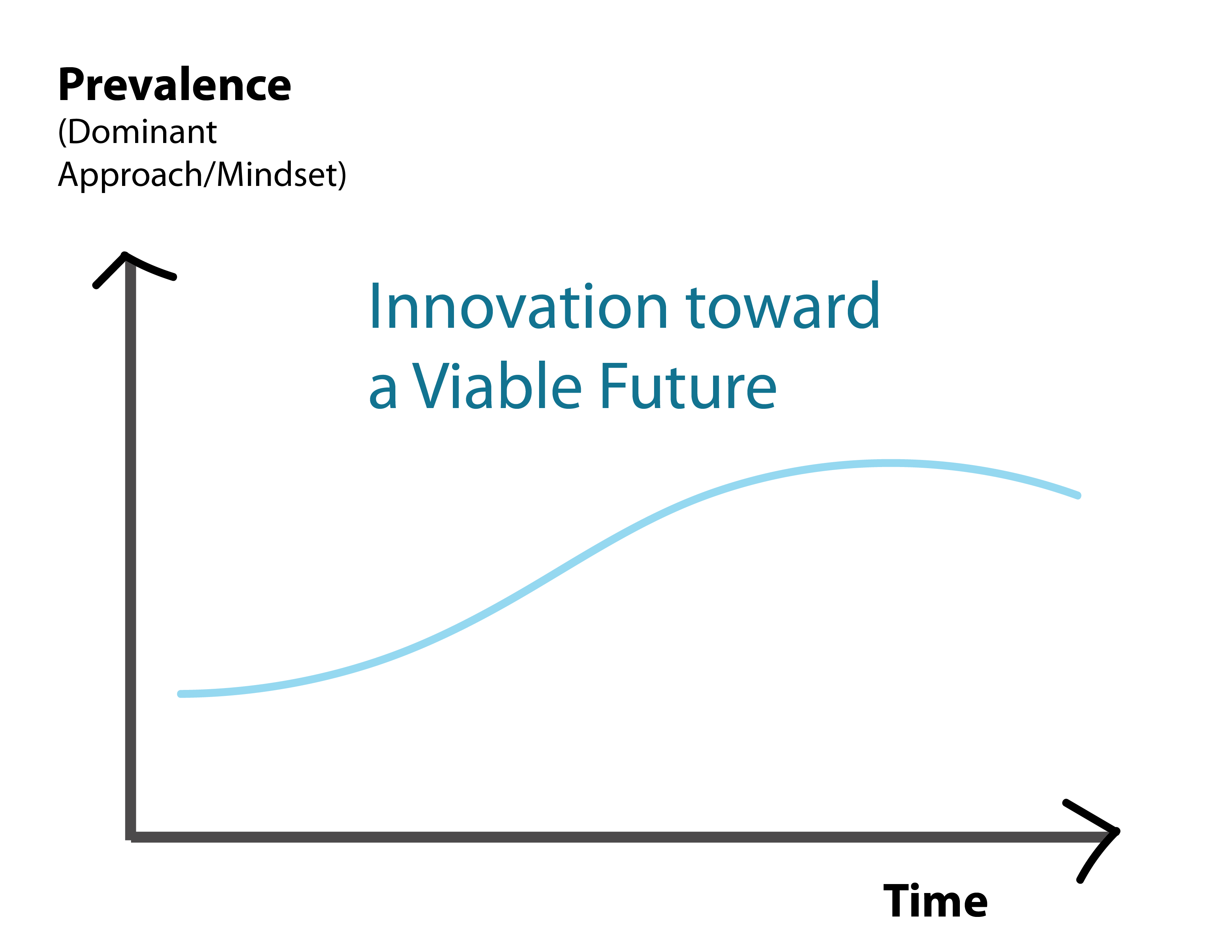 Opportunity
Horizon 2 (H2): Innovation
This transition requires…
A temporary pattern of new activities & innovations
Temporary support for H1
Other innovations transition to H3
Three Horizons Webinar
In this webinar, Bill Sharpe gives an introduction to Three Horizons thinking.
Humanizing Health Care
Dr. Margaret Hannah gives an introduction to her book on transforming Healthcare.
In this beautifully illustrated book,  Bill Sharpe introduces the Three Horizons framework as a prompt for developing a 'future consciousness' – a rich and multi-faceted awareness of the future potential of the present moment – and explores how to put that awareness to work to create the futures we aspire to.
This film records the talk given by author Dr Margaret Hannah at the launch of her book Humanising Healthcare: patterns of hope for a system under strain at the Health Foundation in London. In the talk, she sets out the case that current thinking about health policy and innovation is the product of a modernist mindset that is trapped by a certain set of assumptions. This way of thinking drives us to think we need more money to sustain healthcare systems yet doing so starves us of the possibility of investing in infrastructure to create health. Introducing Three Horizons from IFF, she shows how the presence of a third horizon opens up new ways of thinking and innovating. She presents some important lessons she has learned from the Nuka Model of Health created by Southcentral Foundation in Alaska (an example of the third horizon in the present) before revealing how a shift in mindset can generate a very different system and practice of healthcare which is of better quality and financially sustainable for the long term.
In 2009, the first edition of Transformative Innovation set out a blueprint for educational reform in Scotland. This second edition incorporates the results and practical experience of introducing and managing that reform. The book's message has resonated with readers around the world: given the right kind of guidance and support, our institutions of education are perfectly capable of instigating the kinds of radical changes they need to make in order to prepare our young people for an uncertain future. The authors can say this with some confidence because the insights, tools, suggestions and recommendations in the pages of Transformative Innovation in Education are rooted firmly in practical experience.
How to Use this License
CC BY-NC-ND
This license allows anyone to download and use this method as it is written here and related images provided attribution to both the International Futures Forum (www.iffpraxis.com) and H3Uni (H3Uni.org) are given credit. The methods cannot be changed in any way or used commercially, unless prior permission is granted.
We would love to know how it is being used, please contact us [backoffice(at)h3uni(dot)org] with any questions or simply to let us know how it is being applied in your situation!
Visit our resource library for introductions to powerful thinking techniques, tutorials on H3Uni methods, and facilitation guides to supplement courses.
Would you like to take a course? We will let you know when the next courses become available.
Sign up for our newsletter to receive occasional updates & course information.